July 2022 Newsletter
JUNE WORK PARTY
The rifle and archery ranges were mowed. New target covers were installed on the 36″ and 30″ targets. We are still waiting for the 48″ target covers. A gate post was added to the main entry gate. A second flip up board for blue sky screen was added to the pistol range.
JULY WORK PARTY
This range day will consist of weed eating and cutting brush along the road and the usual general clean up on the ranges. The archery range will be mowed again.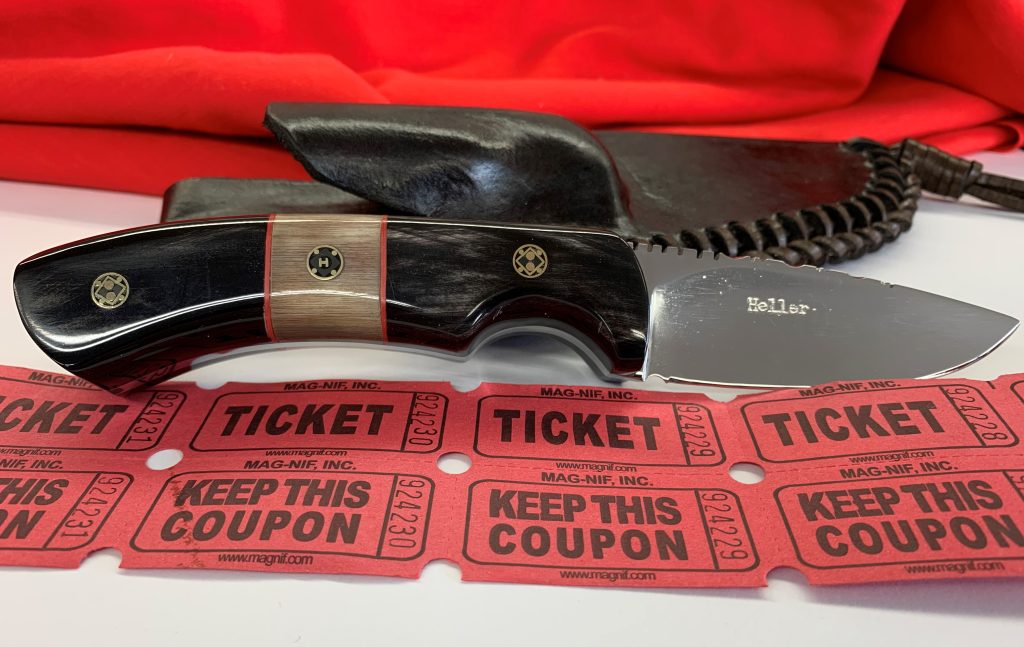 WALT HELLER KNIFE RAFFLE

Tickets $1 each or 6 for $5
Drawing at the 2022 Turkey Shoot
For more info: John Way 541-272-7243
Tickets available at Wesley's Trading Post or from Board Members
ANNUAL ELECTIONS
There being no further nominations, the elections took place with the following results:
President John Way
Vice President Bill Henderson
Secretary Marilyn Smith
Treasurer/Membership Earl Agee
Member at Large Walt Heller
RANGE ORIENTATION
If you have not already done so, schedule your range orientation so you will receive your key for the new year. Range orientation is required for ALL new and renewing members. This range orientation will fulfill the requirement needed to maintain our non-profit status and insurance requirements for the coming year.
Classroom space will seat 12 people comfortably, however, if needed, we can utilize the pistol or rifle range to facilitate larger groups. Please email me at newsletter.btrpc@gmail.com or call 541-270-0785 and let me know the date/time you will be attending.
Why do I need to take this class? Well, first of all the General Membership rules indicate "all members must participate in a range orientation prior to being issued a gate key and using the ranges or facilities of the club." That is the technical side of this issue. The most important issue is the serious safety issue complaints that were received between September and December. More issues have trickled in since then but it definitely was a rude awaking that steps needed to be taken to ensure the safety of everyone. If you have further questions or concerns, please let me know.
Lurlyn Patrick, Range Orientation Instructor
INDOOR TRADITIONAL ARCHERY IN LINCOLN CITY
By Shad Engkilterra
It rains. I'm not telling you anything you don't already kow about the Oregon Coast. It doesn't matter what time of year it is; the weather can turn on a dime, rolling in from the ocean like a gray wave. Real Oregonians don't let the rain stop them from doing their outdoor activities, generally speaking. However, there are some good reasons to avoid the outdoors and inclement weather, especially when there's a place inside that will allow you to do what you want.
If you're looking to shoot some arrows downrange, Lincoln City Archery can help. We have four lanes for traditional archery shooting of bows less than 40#. Fifteen minutes is $15, including equipment and instruction. If you've never shot a recurve bow, this is a good place to learn. You can even bring family, who find your compound bow to heavy to draw. We have 15# bows for children 8 and up.
Traditional archery is a way for me to regain control and focus. It allows me to calm my thoughts and be in the moment as I send arrows toward the target. We do a lot of things that take away our personal power; traditional archery helps me regain some of that. Whether I miss or hit th etarget, the responsibility and the ability lie within me. And I like to shoot zombies.
At Lincoln City Archery, we provide a safe place for people to shoot bows and arrows. We have classes that introduce people to the basics of traditional archery, including learning to shoot both hands, using different stances, dealing with arrows. Later classes allow archers to sample moving targets, walking while shooting and walking while shooting moving targets.
Shad and Jenya Engkilterra own Lincoln City Archery. The indoor range is located at the Lincoln City Outlets across from Tools and More and next to Maurice's. Book online at www.lincolncityarchery.com to ensure your lane. Shad learned archery from Armin Hirmer in Malta, where Armin allowed him to run Malta Archery's indoor range for a year. Last year, Shad and Jenya taught over 3,000 people the basics of traditional archery. Shad has published "How to Shoot a Bow and Arrow" with photos by Jenya to help people remember the steps they learned while at Lincoln City Archery. The indoor range opened on May 15, 2021. We stock a small amount of traditional archery supplies including bows Those who need compound archery equipment may order it from us.